Absorption with a View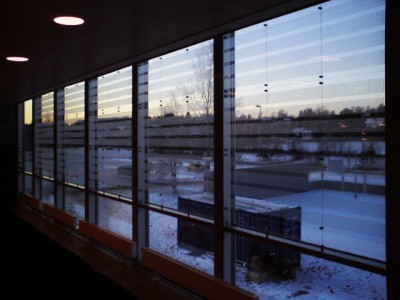 Acousticians and Architects have been searching for a low cost, efficient, attractive, and easy to use transparent absorbing panel for use over glass, such as in atriums and againts large glass surface walls.
The DeAmp® Clearsorber™ Panel is available as standard in Acrylic and virgin or recycled PETG in 2mm-15mm thicknesses. It provides absorption through high viscous losses as air passes through the slots, which are comparable in size to an air boundary layer. This inherent damping eliminates the need for fiberglass or other porous materials in the air cavity between the DeAmp Clearsorber Panel and the reflective surface behind it. Thus it is now possible to provide particle free, absorption with a view. All that is necessary is an air cavity between the Clearsorber Panel and the rear reflecting surface.

RPG is now offering a new patented fiber-free, microslotted, light transmitting, inherently damped panel absorber called Deamp Clearsorber, which provides excellent absorption, while maintaining visibility through the panel.



Absorption:
The DeAmp Clearsorber Panel provides absorption because the micro-slotted panel, when spaced from a transparent or non-transparent reflective surface, offers high viscous losses when air passes through the surface. The DeAmp Clearsorber Panel is inherently damped and does not require porous absorption in the cavity between it and the reflecting surface behind it.
Installation
DeAmp Clearsorber Panel can be hung or fastened in front of a reflective surface via both fixed and removable attachment methods. It can also be hung in free space. Options include display mounts, stand off mounts and free standing screens.

Features
Inherent damping
Fiber-free
Light transmitting
Slit pattern can be linear, triangular, sinusoidal or custom.
Absorption with a view
Thicknesses from 2 mm (0.08") to 20 mm (.78") are possible
Free-hanging or fixed mullion installation possible
Acrylic, PETG or recycled (slightly cloudy) PETG can be used as the base material
Benefits
Inherent damping provided by an array of microperforations, offers high absorption in the mid-lows.
The Clearsorber Deamp panel is fiber-free and does not require any porous absorption in the cavity between the microperforated panel and the rear reflective wall.
Clearsorber Deamp is light transmitting and therefore can provide daylighting for LEED credits.
The customizable slit pattern allows the architect to create interesting visual features.
The transparent and fiber-free nature of the Clearsorber Deamp means it can be used in front of glazing, thus offering absorption without compromising the view.
A wide range of thicknesses offers designers a multitude of installation options.
The Clearsorber Deamp may be hung with decorative hardware or attached directly to window mullions with a permanent or attachment or removable velcro attachment.
Acrylic or PETG offer designers different visual and fire rating options.