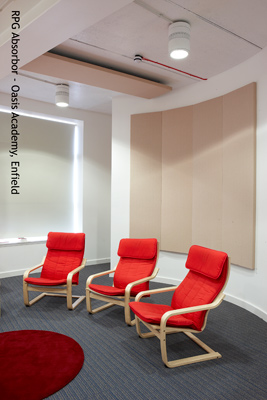 Sound can either be absorbed, reflected or diffused.  In many rooms, flat reflective surfaces can cause interfering reflections and excessive reverberation, which corrupts music quality, speech clarity and general hearing comfort.  One approach to controlling these reflections and excess reverberation time is to use absorptive panels. RPG have developed a simple and cheap method of fixing these panels which allows easy mounting and demounting of Absorbor™ panels.

Problem
Absorptive panels are used extensively in acoustic designs to control room reflections and reverberation.  Workmanship and ease of mounting/demounting are often a problem.

Solution
RPG offers complete custom made panels and easy mounting/demounting solutions.

Fabric finishes can be any fabric that is acoustically transparent. RPG recommend Cara or Lucia from Camira, but other fabric choices are available. Click on the links for more information: Cara, Lucia and Suede.

We can manufacture the panels in any size you require and finish them in any material you require to produce an attractive and well tailored solution. We can even digitally print images on to Absorbors. Please view the Printed Absorbor Gallery for examples of our work.

Many call centres and offices suffer from sound reflection issues which make the workplace both uncomfortable and noisy for employees. RPG offer a range of thickness and sizes as standard, as well as our custom made panels. They can be used on wall or ceiling to improve the acoustics of any area.

Many Home Cinemas could be improved by the use of even a basic absorption panel. Slap echo can be reduced by using Absorbors and high frequencies can be tamed.  Use of 50mm Absorbors will control a wider frequency range.  Use of BAD panels will give useful diffusion and lower frequency absorption too. View a Home Cinema project in our photo gallery.

Performance
RPG Absorbors are manufactured from 6lb cu/ft high density fiberglass, allowing for a stiff, rigid panel. This material can be made into 25mm, 50mm, 75mm, 100mm, 125mm and 150mm thick panels in sizes from 400x600mm through to 3000mm x 1200mm. For availability of sizes and thicknesses, please call.

RPG Absorbors come in class A, B and C acoustic panels.

Installation
The Absorbor™ is easy to install on walls with spikes, glue, Rotofast, split battens or aluminium battens. Ceiling installation can be through the use of L Bars or Rotofast Cloud hooks. Frame mounting is an option, as are free-standing Gobo units.

Benefits
Efficient absorption
Custom made
Standard or Custom fabrics
Ease of installation
Bespoke acoustic panel solution.

Product Options
Any acoustically transparent fabric approved by RPG® Diffusor Systems, Inc
6 lb. density fiberglass
Split Batten mounting
L Bar, Z Bar, Magnets
Spike mounting
various thickness and shapes. rectangles, triangles, squares, circles...
| | |
| --- | --- |
| Straight Edge Detail | Bevelled Edge Detail |

RPG Europe also can offer the Absorbor in 2 new configurations, Double Sided Acoustic Baffle and Single Baffle.
Double Sided Acoustic Baffles are available in 1200x300, 1200x400, 1200x600, 1800x600, 1800x1200 and 2400x600, 2400x1200, with 25 or 50mm thickness.  All Baffles are suspended by wire.
Single Baffles are melamine foam panels on a standard fiberglass part. This gives a pleasing, soft feel which is in contrast to the usual harder feel of a standard Absorbor.
For technical information please view our Absorbor downloads page.
| | |
| --- | --- |
| Baffle Edge Detail | Soft Feel Absorbor  |