Problem
Projects designed with extensive use of glass surfaces can produce strong interfering reflections and excessive reverberation, which create an uncomfortably loud ambience causing fatigue and corrupting speech intelligibility.

Solution
To address these acoustical problems,while maintaining natural lighting and views to the outside, RPG introduces Clearsorber™ Foil, made from microperforated polycarbonate. If the perforations in a Helmholtz resonator are made sub-millimeter in diameter, they are comparable to the thickness of a boundary layer of air. As sound passes through these microperforations, sound absorption will occur due to viscous boundary layer effects in the perforations, as long as an air cavity is provided between the foil and the vision glass. It is then possible to achieve sound absorption without the need for additional porous material in the cavity behind the microperforated sheet, thus allowing the panel to be transparent or translucent. Therefore, the Clearsorber™ Foil offers an acoustical solution when a clear absorber is required.

Absorption
Clearsorber™ Foil provides absorption because the microperforated panel, when spaced from a transparent or non-transparent reflective surface, offers high viscous losses when air passes through the surface. The Clearsorber™ is inherently damped and does not require porous absorption in the cavity between the Clearsorber™ and the reflecting wall behind it.
Thickness:0.1 mm
Hole Diameter:0.2 mm
Distance to Glass:100 mm
Distance Between Foils:30 mm
Thickness:0.1 mm
Hole Diameter:0.2 mm
Distance to Glass:50 mm
4-way Attachment


Thickness:0.1 mm
Hole Diameter:0.2 mm
Distance to Glass:30 mm
Grommet Mounting



Thickness:0.1 mm
Hole Diameter:0.2 mm
Distance to Glass:50 mm
Distance Between Foils:30 mm


Thickness:0.1 mm
Hole Diameter:0.2 mm
Distance to Glass:100 mm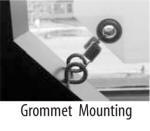 Installation
Clearsorber™ Foil can be mounted single or double layer, with double layer providing broader bandwidth sound absorption. The foils are held in tension with springs stretched between a metal eye bolt and grommet in the corner of the foil. Panels can be tiled using the 4-way attachment, shown at far right.

Features and Benefits

Microperforated

Fibre-free

High Sound Absorption

Transparent, Translucent or Metallic

Moisture, bacteria and funghi resistant

UV stable

Class A Fire Rating

Easy to install

Patented sub-millimeter microperforation technology in a transparent sheet
- Provides sound absorption
- Eliminates potential danger from particulates
- High sound absorption is a result of viscous boundary layer effects in the perforations, when a rear air cavity is provided between the Clearsorber™ Foil and the vision glass
- Because the microperforations provide sound absorption without the need for a backing porous material,the foil can be made transparent ortranslucent, allowing natural lighting and visibility from a clear absorber
- The foil is resistant to moisture,bacteria,and fungi and so can be used in place of
traditional fabric upholstered systems
- UVstability insures the panels will not discolor nor decompose over time
Polycarbonate can be used in those facilities requiring a Class A/1 rating
- Quick and easy installation saves time and money
- Panels can be simply mounted or hung with decorative hardware selected by the
architect

Atriums, Botanical Gardens, Lobbies,
Auditoriums, Commercial facilities,
Swimming Pools, Clean Rooms, Food
Processing Plants, Food Prep Areas,
Cafeterias and Restaurants 

Product Options
Material:Polycarbonate
Width:1 m
Thickness:0.1 mm foil
Density:0.03 lbs/sf
Color:Clear