Home Cinema and Home Audio Products

Maximize The Surround Experience
Traditional home theater acoustical products focus on sound absorption and reflection, this leads to a room that has too much mid and high frequency absorption, leading to muddy bass and unclear imaging.
While absorption and reflection are important ingredients, effective surround sound home theater acoustical design can only be realized with a balanced approach that uses all of the ingredients in the acoustical palette.
RPG® introduced the CineMusic™ Product Line of AcousticTools™, as well as absorption, the packs include products that offer broad bandwidth absorption, dedicated low frequency absorption down to 35 Hz, and critical surround sound diffusion. Room dimensioning and speaker/listener location optimization software complete the acoustical palette.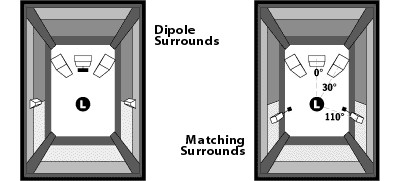 Today, the music and home theater industries are enjoying exciting new surround formats. Many of the seminal principles of our original RFZ/RPG® studio design will migrate to the new formats, with slight modifications.
New formats such as 7.1 surround bring more depth to soundstage, allowing the original audio vision to be delivered to you in your cinema room.  Using RPG products to remove the feeling of boundaries in your room, allowing you to immerse yourself in the experience.
RPG CineMusic products




A Complete Line of High Performance Acoustical  products for Residential Applications in Home Theater,  Stereo Listening and Media Room Environments.  CineMusic Packages offer attractive, low cost, fabric  wrapped room solutions utilizing RPG Technology  throughout.

Behind The Scene

Behind the ScenesBehind The Scenes
A new turnkey solution for Home Cinema Installations.
This package is the complete solution for Home Cinema Acoustics.

CineMusic™ products:
AcousticTools™ for Home Theater, Stereo Listening and Media Rooms
To address all of the potential forms of acoustic distortion, we have created Spatial, Imaging, Combination, Bass Management, and Software Tools.

Spatial Tools
Spatial Tools uniformly scatter sound arriving from any direction and create a sense of "passive" surround sound, immersion, and envelopment in the soundfield.

Imaging Tools
Imaging Tools absorb reflections from the room's boundary surfaces, which cause comb filtering and corrupt the soundstage, image size, and timbre.

Combination Tools
Combination Tools will both absorb reflections from the room's boundary surfaces in the low and mid frequency range while also uniformly scattering sound in the upper mid and high frequency range to eliminate the 'dead space' syndrome many small rooms suffer from when high frequencies are overly absorbed.

Bass Management Tools
Bass Management Tools minimize room resonances and speaker boundary interference effects to provide a more uniform room response.

Specialty Tools
Specialty Tools are now available to offer more finish choices for the designer and home owner while maintaining the level of performance demanded by RPG.  Check the individual product pages for the style of performance and options available