Problem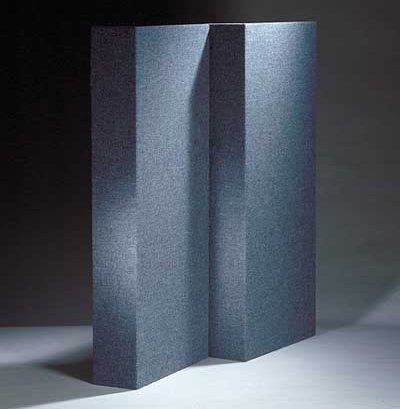 Small rooms like Project Studios need a very efficient surface to absorb first order reflections over a broad range of frequencies. This is not possible with thin, flat, surface mounted porous fibreglass or foam panels.

Solution
RPG's internally hinged Abflector™ ships flat for economy, but installs as a splayed wedge with a Variable Depth Air Cavity. This unique mounting improves bass response, increases the angle of incidence and deflects high frequencies.

Interfering reflections from a critical listening room's boundary surfaces corrupt the timbre and stereo imaging. Therefore, signal processing and image placement will not transfer accurately to other listening environments. The most effective way to minimize this form of acoustic distortion is to absorb the interfering reflections over a broad range of frequencies. To extend the low frequency absorption efficiency of conventional flat absorptive panels, RPG research developed the Abflector™. The Abflector™ is a novel and economical internally hinged, upholstered absorptive panel. It ships flat, but mounts with most of the absorptive material away from the boundary surface for improved low frequency absorption.



Performance
The Abflector™ offers a Variable Depth Air Cavity (VDAC™) to improve bass absorption. The Abflector™ simulates the beneficial Reflection Free Zone™ effect, created by outwardly splaying side walls in a rectangular room. The graph illustrates how the Abflector's™ innovative hinged panel mounting exploits the advantages of the air cavity. Notice the significant increase in the low frequency absorption over that of a similar 25mm thick flat panel, mounted directly to a boundary surface.

Installation
The Abflector™ is easy to install with its attached hook and loop fasteners. Hardwood feet are also available for floor standing installation.

Benefits
The unique internal hinge allows the Abflector™ to be mounted with a Variable Depth Air Cavity (VDAC™). This method eliminates the expense of field installed spacing systems for flat panels The internal hinge also allows the Abflector™ to be efficiently packaged and shipped flat to reduce shipping costs The different length panel segments form a visually interesting architectural splay, which adds elegance to the look of simple rectangular rooms The Abflector™ forms a splayed side wall surface, which increases the effective panel thickness and also deflects interfering reflected sound away from the sweet spot A wide range of fabric choices also complements the unique splay design
The lightweight panels can be applied to walls, ceiling, or used as a floor standing panel

Product Options
Any acoustically transparent fabric approved by RPG. 

Standard Unit Construction 1200mm
1200mm height x 480mm width nominal (1200 x 470) x 145mm deep
Cambourne Fabrics
6 lb. density fiberglass

Standard Unit Construction 2100mm
2100mm height x 480mm width nominal (2100 x 470) x 145mm deep
Camira Fabrics
6 lb. density fiberglass