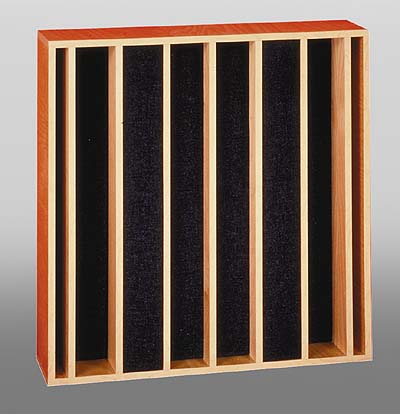 The first general purpose variable diffsorbor. 

The Biffusor is reversable. One side is a QRD 734, the other is a combination product with absorbing material in the well base.  If this aesthetic is not pleasing, then another option is to have a QRD face and a standard absorbing face, similar to the Modex module.
This product is ideally mounted into a recess with a pivot mounting to allow the unit to rotate, this action can be motorised and controlled remotely. RPG do not provide mounting systems with this product.
Product Options
Any acoustically transparent fabric approved by RPG Europe. 

Standard Unit Construction 1200mm x 600mm x 230mm
Camira Fabrics
6 lb. density fiberglass
MDF or Veneered MDF
Paint or Laquer
approx 27kgs in weight

Standard Unit Construction, 2100mm
2100mm height x 480mm width nominal (2100 x 470) x 145mm deep
Camira Fabrics
6 lb. density fiberglass