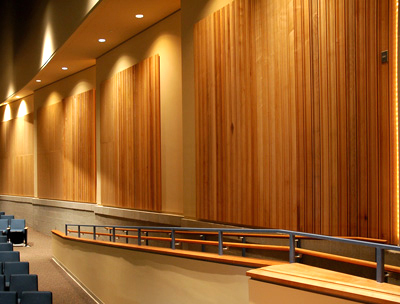 RPG® has utilized its patented "Aperiodic Modulation of a Single Asymmetric Optimized Base Shape" technique to produce a new optimized, asymmetric FlutterFree®-T, which features a folded well configuration at the junction of two planks. The diffusion bandwidth is greatly improved over the traditional FlutterFree® that uses a number theoretic design.

FlutterFree®-T is a handsome, furniture grade, acoustical hardwood molding that provides flutter echo control. Its application converts rooms with flat parallel surfaces into functional spaces with good speech intelligibility, sound quality, and a natural, comfortable ambience. It expands the designer's flutter control finish treatment options beyond fabric upholstered surfaces.




Absorption
When FlutterFree®-T panels are mounted 1/16" apart, the graph at left can be used to determine the spacing from the mounting wall for the desired absorption frequency. For example, to achieve bass absorption at 100 Hz, follow the vertical 100 Hz frequency line until it intersects the leftward sloping fractional open area line. Follow the horizontal line to the 8" intersection point.

Diffusion
The image at left illustrates the FlutterFree®-T in an aperiodic modulation arrangement. The orientation of adjacent FlutterFree®-T planks follows the prescription of an optimal binary sequence. The "T" well configuration in conjunction with RPG's patented "Aperiodic Modulation of a Single Asymmetric Optimized Base Shape" technique is what gives the FlutterFree®-T its greatly improved performance over the original FlutterFree®.

Installation
FlutterFree®-T is moulded on a 5 head wood moulder from hardwood that is kiln dried to 6-8% moisture content. RPG® takes every precaution to minimize warping by stress relieving the rear surface and treating all exposed surfaces on prefinished orders. FlutterFree®-T can either be nailed or glued directly to a wall surface or laterally spaced and mounted with a rear air cavity for low frequency absorption. In this Helmholtz mounting, a semi rigid fiberglass panel is mounted directly behind the FlutterFree®-T, where the particle velocity is a maximum , as opposed to on the rear wall. When used as wall panels, a hardwood frame (not supplied) is suggested.
Features

Furniture grade, hardwood, sound diffusing acoustical molding
Low frequency absorption mounting option
FlutterFree®-T works on the "Aperiodic Modulation of a Single Asymmetric Optimized Base Shape" technique
Modular extruded diffusive strips

Benefits
Handsome furniture grade hardwood finish offers specifiers a new approach to flutter echo control that does not rely on the use of fabric upholstered fiberglass panels
Offers an almost unlimited variety of lacquered, stained, or painted finishes and hardwood options
Diffusive flutter control minimizes flutter echoes without making the space acoustically ®dead"
Diffusive flutter control provides an ambient environment to support speech in conference rooms for less fatigue, greater coverage, and high speech intelligibility
Mounting FlutterFree®-T over an air cavity provides low frequency absorption to minimize boominess and lack of definition in small rooms