Wood is generally accepted as a desirable surface treatment in general architectural spaces, as well as critical listening and performance spaces. However, one of the problems of wood is that the flat surfaces can cause unwanted reflections which can negatively colour sound and cause problems with speech intelligibility.


Traditional acoustic treatments such as fabric wrapped fiberglass, expanded mesh and acoustic plasters are all very effective but none offer the architect the look and feel of real wood veneers.  Slotted Acoustic Wood Planks - Wood Acoustic - from RPG Europe are now available, and provide absorption, aesthetic appeal and the natural beauty of wood for the architects and designers.

Wood Acoustic Alpha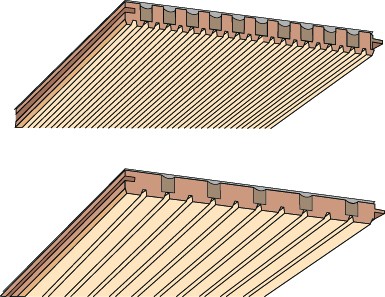 Alpha planks are composed of an MDF core, supplied either with a wood veneer or RAL/NCS finish on both surfaces. The rear side is provided with a black acoustical tissue to improve absorption.
| | |
| --- | --- |
| Rear side Alpha S - slotted | Rear Alpha P - Perforated |
Sizes
Axes centres 6, 8, 16, 32 mm
Standard width 192 mm
Standard length 2780 mm in Class 2
Standard length 3050 mm in Class 1
Standard length 2980 mm in Class 0
Thickness approx. 16 mm / door elements 19 mm
Other axes centres and sizes are available upon request
Acoustic Performance
Acoustic performance depends on depth of system and open surface area of planks.  Typical performance data:
| | |
| --- | --- |
| | |
| 1 alpha S type 8 or 16 with 30mm, 366mm depth | 2 alpha S type 32 with 30mm Insulation, 66mm depth |
| | |
| 3 3 Alpha P type 8 or 16 with 40mm insulation, 56mm depth | 4 Alpha P type 6 with 30mm insulation and 46mm depth |
Finishes
Available in most wood species or painted in RAL or NCS colour
Fire ratings
MDF panels in Class 2 and Class 1
Gypsum panels in Class 0 available upon request
Weight approx. 10,5 kg/m2
door elements approx. 11,5 kg/m2
Installation
alpha planks are to be installed to a wood or metal subconstruction.
The distance between battens perpendicular to the length of the panels must not exceed 600mm. alpha planks are prepared with tongue and groove edges that provide an integral air space of 1/10 mm on the back side of each plank. Please ensure that the installation nails go through the backside of the groove and not the tongue.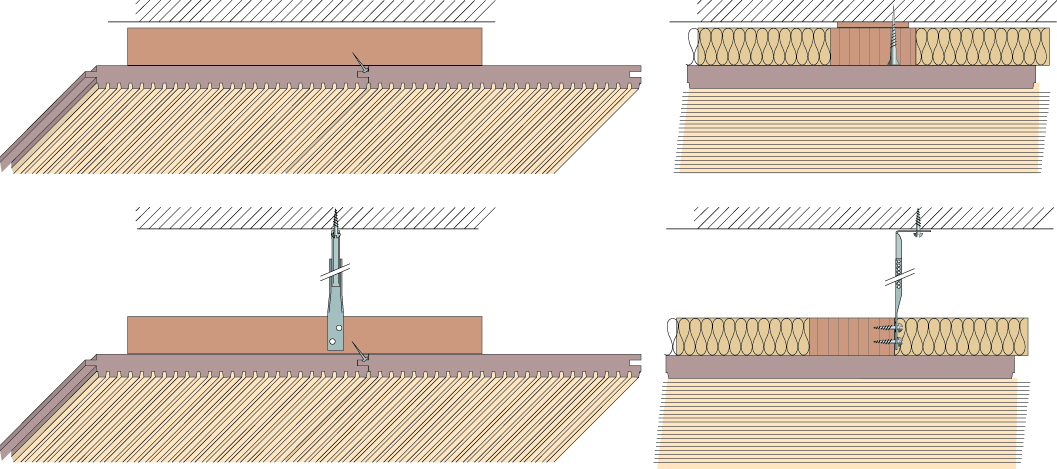 The panels can be cut to size with any common woodworking tools. If field cutting, make sure the visible surface lies upwards while working with the material to prevent surface scratches.